2018 Survey Results: Over half of public-sector union workers support Janus decision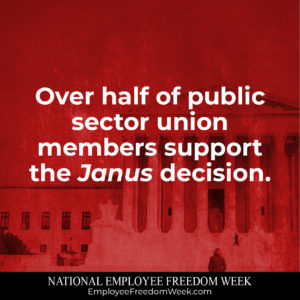 Recently, the U.S. Supreme Court ruled that government workers cannot be forced to pay fees to a labor union. Many experts described this ruling as the most significant court decision affecting collective bargaining rights in decades.
To better understand how state government employees view this ruling, and whether they plan to continue or stop paying dues, a national survey of over 300 public-sector union members was administered in August 2018.
One public sector worker who participated in the survey said the following: "If the union is not supporting or representing the worker, then he or she should not be required to pay money for unfair treatment." Another survey participant put it this way: "The union does not represent me. I think we should vote with our money, and if a union doesn't do its job, it shouldn't get paid by me."
The findings reveal some interesting and important insights about public sector union members:
Awareness of the Supreme Court ruling is high.
While most (71%) are aware of the ruling, some are not (29%).
Many think the ruling is a positive development.
51% say the changes are positive, but 32% do not and 17% are on the fence. When asked why they think the changes are positive, respondents offered a number of reasons, including that the ruling protects their personal rights and freedoms (37%), eliminates what they believe is an unfair labor practice (22%) and allows them to save money by not being forced to pay dues (18%).
Workers will exercise their new freedom to stop paying dues.
One-third plan to change what they are paying, with 6% saying they have already stopped paying dues and 25% saying they plan to stop paying in the near future.